With spring just around the corner (hopefully!), our team has been enjoying learning about the top landscaping trends for 2020. 
The top 3 trends we're looking to incorporate more into our business is: 
Ornate, Geometric Hardscaping
Sustainable Landscaping
Contemporary and Transitional Landscape Design
We've put together a list of products that  we're really looking forward to working with this year and would recommend to our clients. I hope it inspires you for your landscape projects.
Trend #1: Ornate, Geometric Hardscaping
There are many different options when installing hardscape and now's the time to explore with different shapes and patterns like waves, chevron and lattice. 
Hexa 100 Pavers by Techo-bloc
 This six-sided, elongated gem is taking center stage in landscaping, providing a unique geometric look that blends seamlessly in urban outdoors for the most sought-after style. From driveways to walkways, this hexagon inspired paver is a great choice for both small and large spaces. 
Trend #2: Sustainable Landscaping products
Sustainability has been a buzz word for a few years now, but for good reason. More homeowner and businesses are actively trying to consider the environment in their buying decisions. The following products are things we'd love to incorporate more this year in our client projects. 
Melville Aqua Pavers by Permacon
These Melville Aqua pavers would be perfect for a driveway. Not only are the sleek but also eco-friendly. It's a permeable paver that allows for a more natural runoff flow.
Rainwater Harvesting System by Aquascape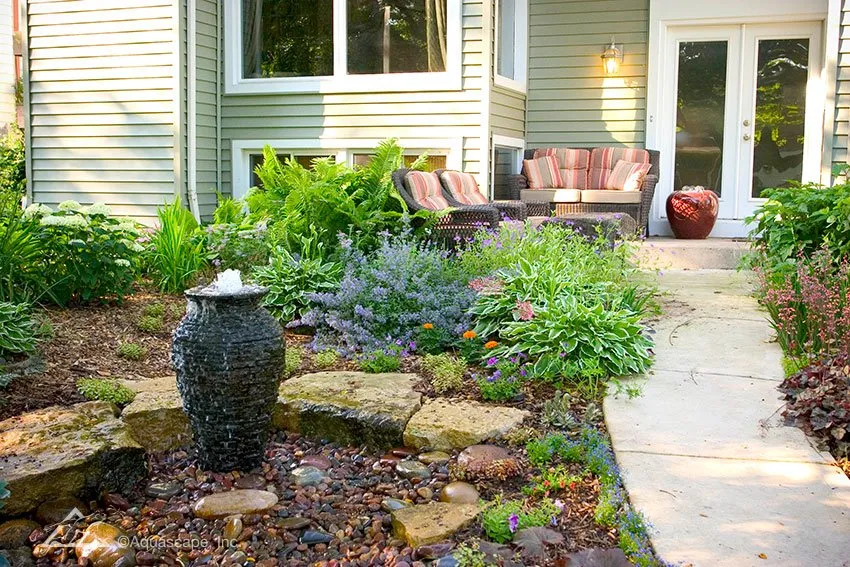 Another trend for 2020 is using sustainable landscaping products. The Aquascape Rainwater Harvesting System incorporates a peaceful water feature along with storm water management. Similar to a rain garden, the water is collected, stored and reused to maintain your landscape. 
Native plants are adapted to local climate, soil conditions and diseases. They are low maintenance and low on water consumption and attract pollinators. For a full list of Native Plants to Eastern Ontario, you can visit the City of Ottawa's website. If your interested in planting native plants this spring, Beaux Arbres specializes in wildflowers for the Ottawa Valley. 
Trend #3: Contemporary and Transitional Landscape Design
One of the trends highlilghted this year by NALP is that millennials are being drawn more to contemporary and simple landscape designs. People are interested in a simple design that can take through multiple seasons. 
Modan walls by Oaks landscaping products
Modan wall pieces are smooth and clean and would add perfectly to a contemporary and transitional landscape style.
Senzo pavers are sleek, have an interesting color design, clean shape and would work perfectly in a contemporary landscape. These stones are also stain resistant and easy to clean so will be a great choise for a driveway or patio. 
Raffinato Fire Pit by Techo-Bloc
The Raffinato fire pit is polished, and sleek and can work with wood, natural gas or propane. It would be a cozy addition to any backyard but still sticking with the contemporary and transitional style. 
There are so many options for products to use to build your dream landscape. Whether your going for a classic stone in an interesting chevron pattern, or a really sleek paver for a modern patio you can create the space that's right for you.